Do you want to find an app developer and develop an app for your business? You're not alone! In fact, according to Statista, mobile apps are projected to generate $935 billion in revenue by 2023. With all this potential revenue, it's no wonder that many businesses are looking for an app developer to bring their ideas to life.
However, finding the right app developer can be a daunting task. There are hundreds of thousands of developers out there, each with their own unique set of skills and expertise. With so many options, how do you know which developer to choose?
Well, in this blog, we shall be discussing everything related to the same. Therefore, with this being said, let's get right into it starting with:
How To Find & Hire App Developers?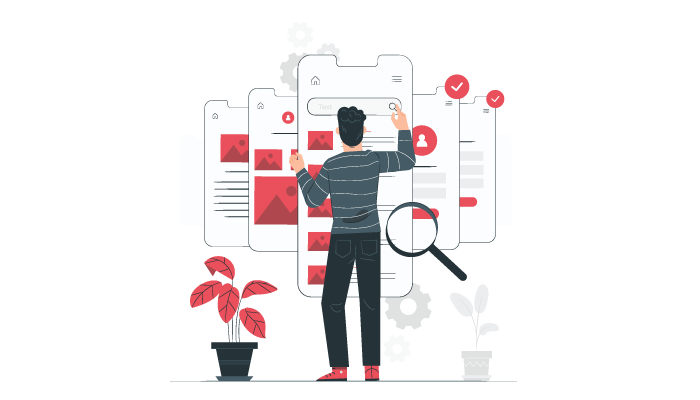 Are you planning to develop a mobile app for your business but are unsure of how to find an app developer in USA? There are several ways to hire a mobile app developer, and each option has its advantages and disadvantages. Here are some ways to find an app developer:
Assembling your own in-house team of developers is a popular choice for many businesses. Hiring a recruiter or asking your HR team to find developers is a way to acquire developers for a project. However, finding several developers can take some time, and providing them with a full salary, benefits, and required hardware and software can be costly. The advantage of assembling an in-house team is complete control over development time, entire dedicated time from the team, and transparent conversation with the development team.
Consult Local Development Firm
If you are based in a big city in the United States of America, you can look for local mobile app development services. This option provides more transparency and optimal cost, and you can hold physical meetings and interview developers personally. However, there may be a lack of options depending on the city, and it may not be an option for every business.
Freelancers offer an amazing skill set and competitive prices. You can hire some of the most vetted developers for part of a project to get an edge. Hiring freelancers is a flexible option that does not require payment for benefits and provides flexible hours. However, communication issues and less control over development can be disadvantages, and freelancers are less organized than in-house teams.
Outsource to a Mobile App Development Company
Outsourcing the work to a custom mobile app development company is the most popular option to acquire developers in the 21st century. This option provides clear and professional communication, an expert and experienced developer, and optimal cost of development, among other advantages. They meet deadlines, and you only need to pay for the project and nothing else.
Staff augmentation is an option when you already have a team of developers that is missing a key component. In this case, you can hire or outsource the work to someone with the right skill set to complete the project. This option is not a solution to hire a full team of developers, but rather just some specific app developers. The advantages of staff augmentation are paying for work per hour, no need to provide benefits or facilities, and getting developers with super-specific skill sets and specialized experience. However, communication issues can be a disadvantage.
Each option has its own advantages and disadvantages, and it's up to you to choose the one that fits your needs and budget. It's essential to have a clear understanding of your business requirements, project goals, and budget before deciding on an option. Take the time to research and weigh the pros and cons of each option to make an informed decision. With the right app developer, you can create a successful mobile app that meets your business needs and goals.
Ways To Find An App Developer in USA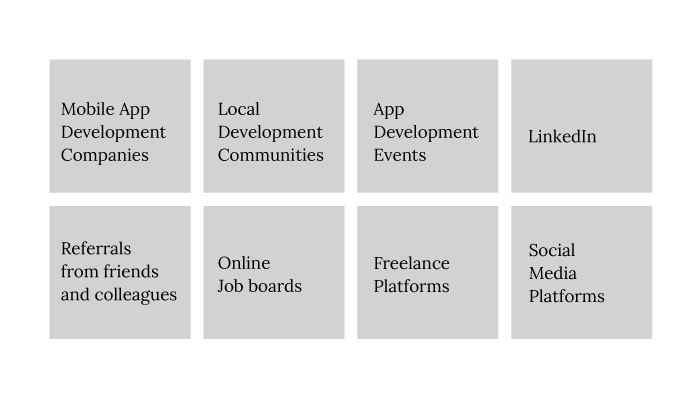 Developing a mobile application is a complex process that requires expertise in programming, design, and user experience. To Find an app developer in USA to bring your idea to life is the first step towards success. If you're in the USA and looking for an app developer, this section will guide you through the different ways to find one.
Mobile App Development Companies
Top Mobile App Development Companies like Nimble AppGenie, WeAppIt, Fueled, Intellectsoft, and Savvy Apps are specialized in developing mobile apps. These companies have a team of experienced app developers who can help you build a high-quality mobile app.
Local Development Communities
Attend local tech meetups or conferences to network with local app developers. These communities provide an opportunity to meet app developers in person, discuss your app idea, and find potential app developers.
App Development Events
Attend app development events like App Builders, AppFest, or AppNation to find an app developer in USA. These events allow you to meet app developers, learn about the latest trends in app development, and showcase your app idea.
LinkedIn
LinkedIn is a great platform to find app developers by searching for relevant keywords and filtering by location, experience, and skills. You can also join relevant LinkedIn groups to network with app developers and learn about the latest trends in app development.
Referrals from friends and colleagues
Ask for referrals from your friends, colleagues, or other business owners who have already developed their mobile applications. Referrals are often the most reliable source of finding app developers as you get to know about the developer's work ethics, communication skills, and work quality.
Online Job boards
Post your job requirements on online job boards like Indeed, Glassdoor, or LinkedIn. Online job boards offer access to a large pool of app developers, and you can filter the candidates based on their experience, location, and skills.
Freelance Platforms
Platforms like Upwork, Freelancer, or Guru offer access to a wide range of freelance app developers. These platforms allow you to post your job requirements and receive proposals from app developers worldwide. However, it's essential to choose the right freelancer with relevant experience and a proven track record.
Social Media Platforms
Use social media platforms like Facebook, Twitter, or Instagram to find app developers. You can join relevant groups or use relevant hashtags to find app developers. Social media platforms also allow you to check the developer's profile, work experience, and portfolio.
Why It's Important To Choose Right Mobile App Developers?
Choosing the right mobile app developer is essential for the success of your mobile app. The right developer can help you build a user-friendly, engaging, and scalable mobile app. On the other hand, choosing the wrong developer can lead to a waste of time, money, and effort.
A study by Clutch.co found that 59% of businesses that outsourced their mobile app development were dissatisfied with the final product. Therefore, it's crucial to choose the right app developer who can understand your app idea, communicate effectively, and deliver a high-quality mobile app.
How To Choose Right Mobile App Developers?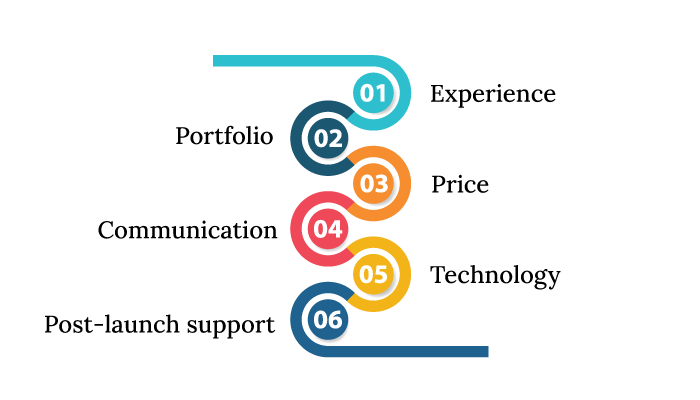 When it comes to choosing the right mobile app developer, there are several factors to consider. Here are some additional details on each of the points I mentioned earlier:
Look for developers who have experience working with the relevant mobile platforms (e.g., iOS, Android) and who have a track record of success in developing mobile apps. Ideally, you want to find a developer who has experience in your industry or niche, as they will have a better understanding of your target audience and the unique challenges you may face.
Reviewing a developer's portfolio is a great way to get an idea of their capabilities and see if they have experience creating apps similar to what you want. Look for a developer who has created apps with similar functionalities, features, and design styles that align with your vision.
While Cost to hire Developers is an important consideration, it shouldn't be the only factor you consider. Cheaper isn't always better, and you don't want to sacrifice quality for a lower cost. Compare the pricing of different developers and weigh the cost against their experience, portfolio, and quality of work. In any case, cost to hire app developer in USA, is one of the key thing to consider.
Choose a developer who communicates effectively throughout the development process. You want to work with someone who is transparent and keeps you informed of progress, challenges, and any changes to the project scope. Good communication helps ensure that you're happy with the final product and that the development process runs smoothly.
Ensure the developer is proficient in the relevant technologies, such as programming languages, frameworks, and tools. Depending on your project needs, you may need a developer with specific skills or experience in certain technologies. Look for a developer who is up-to-date with the latest trends and who can recommend the best technology stack for your project.
Choose a developer who offers post-launch support, including bug fixes and updates. After your app is launched, you may encounter issues or want to add new features. A developer who offers ongoing support can help ensure your app stays up-to-date and continues to meet your needs.
By considering these factors, you can choose the right mobile app developer for your project and ensure that your app is a success.
Cost To Hire App Developers in USA
According to a report by Clutch.co, the average cost of developing a mobile app in the USA is around $171,450. This cost can vary based on the complexity of the app, the features and functionalities required, the platform, and the location of the development team. For example, developers in major tech hubs like San Francisco, New York, and Seattle tend to charge higher rates than those in other areas.
The report also found that the hourly rates cost to hire app developers in the USA range from $50 to $200 per hour, with the average being around $100 per hour. The rates can be higher or lower depending on the experience and skills of the developer, as well as the type of app being developed. Moreover, there are other factors which affect cost to hire app developer.
It's important to note that while cost is an important consideration, it should not be the only factor when choosing a mobile app developer. You should also consider their experience, portfolio, communication skills, and ability to provide post-launch support. By taking all of these factors into account, you can find a developer who can create a high-quality app that meets your needs and fits within your budget.
Factors That Affect Cost To Hire App Development Agency in USA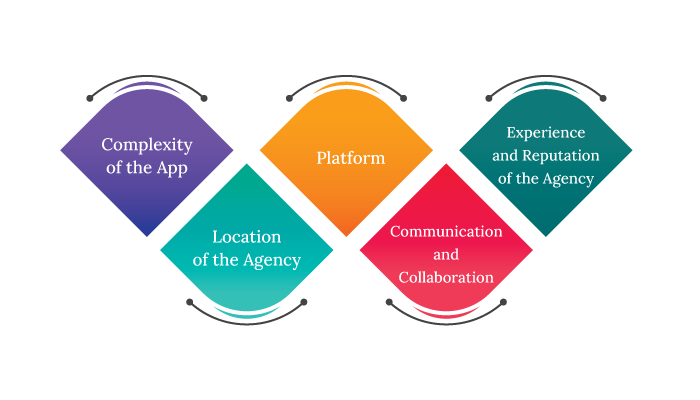 So, if you want to learn cost to hire app developer in USA, there are various factors that can affect it. And in this section of the blog, we shall be discussing various factors which affect total cost to hire app development agency in USA for your next project.
Complexity of the App
The complexity of the app is one of the main factors that can affect the cost of hiring an app development agency. If the app is simple with basic features, it will be less expensive to develop. However, if the app is complex with advanced features and functionalities, it will require more time and resources to develop, which will increase the cost.
Platform
Another factor that can affect the cost of hiring an app development agency is the platform for which the app is being developed. Developing an app for iOS is generally more expensive than developing an app for Android, mainly due to the differences in development time and resources required.
Experience and Reputation of the Company
The experience and reputation of the app development agency can also affect the cost. A well-established agency with a good reputation will generally charge higher rates than a newer agency or one with a less established reputation.
Location of the Agency
The location of the app development agency can also impact the cost. Agencies located in major cities or areas with a higher cost of living may charge higher rates than those located in smaller cities or areas with a lower cost of living.
Communication and Collaboration
Effective communication and collaboration between the app development agency and the client is crucial for the success of the project. The cost may increase if there are communication barriers or difficulties in collaboration.
 Conclusion
This is how you can find an app developer in USA and how to hire the right one for your next project. Now, in any case, if you are someone who wants to hire app development agency in USA to create a market leading application, it's highly recommended that you consult an mobile app development company that will help you with the same.
FAQ
Yes, you can hire a freelance app developer to develop your mobile app. However, it's essential to choose the right freelancer who has relevant experience and a proven track record. Freelance app developers can be a more cost-effective option than hiring an app development agency.
You can protect your app idea by signing a non-disclosure agreement (NDA) with the app developer before sharing any details about your app idea. An NDA can help protect your app idea from being stolen, copied, or shared with others.
The time to develop a mobile app varies depending on the complexity of the app and the development process. However, on average, it takes around 4-6 months to develop a mobile app. The development process includes planning, designing, coding, testing, and launching the app.
Yashshree Purohit is a Technical Content Writer for weappitright, with over 5+ years of experience in delivering excellent content for different domains. She has the dedication and passion to write dull & boring lines into eye-captivating content for the audience.